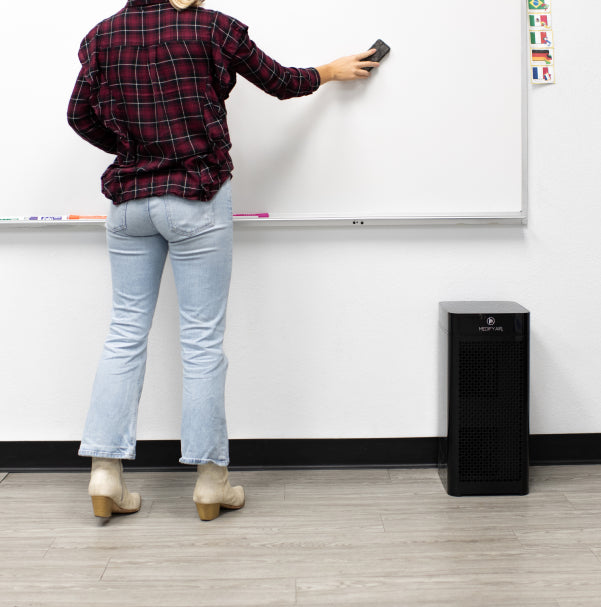 Provide a Safe Learning Environment with Professional Grade Air Purifiers
Students, teachers, and faculty have a right to breathe clean, safe air. Medify Air has helped thousands of classrooms reopen with a suite of purifiers that remove 99.9% of potentially harmful airborne particles down to 0.1 microns with fans that operate quietly, as to not distract from learning.
"Our purchase of 600 Medify purifiers to outfit our resident halls has improved indoor air conditions and provided peace of mind for our resident students and their families during these difficult times. The purchasing process was simple and informative to determine the best units for our needs, the shipping fast, and the air purifiers durable and highly effective. Can't recommend enough to other schools and businesses working through reopening procedures."
Mark Van Etten, VP of Finance & Administration, Misericordia
University
"With the pandemic continuing to spread throughout our nation, the health and wellbeing of every individual within our community remain our top priority, by purchasing 800 MA-15 units, we hope to provide the safest campus possible."
James L. Caffrey, Associate Vice President, Facilities Management at The University of Scranton.
"I'm using this in my classroom as an added peace of mind. My high school students fight to sit beside it because of the gentle hum and breeze. I feel better having it in the room. Easy to use, can't hear it at all unless it is on level 3, and it takes lunch smells out very quickly. Would buy again."
T Stephens, Amazon Customer
Want help making the right plan for
your school? Let's chat.
Not sure which units will provide the best coverage for your classrooms, meeting rooms,
auditoriums, gymnasiums or dorms? Fill out the form below and one of our
clean-air consultants will be in touch within 24 hours.
All Inventory in Stock
& Ready to Ship
Orders Arrive in
5-7 Business Days
Bulk Discounting
Available
When used properly, air cleaners can help reduce airborne contaminants including in a building or small space. - EPA, 2021
To date, Medify has supplied over 200,000 units to schools and universities nationwide
Medify's True HEPA H13 filters capture 99.9% of airborne particles down to 0.1 microns